If you're like me, one of the biggest challenges to owning motorcycles is storing motorcycles. Some people are lucky enough to own a large storage facility, but most of us have to make do with the two-car variety. Keeping the peace in the family garage can be a real challenge. Fortunately there are some great products on the market to make motorcycle storage a little easier.
The never ending search for the perfect motorcycle is an affliction. Symptoms include constant research, trackside comparisons and minor modifications. If you succumb, the prognosis usually means a garage full of motorcycles.
This aluminum saddle dolly has been a fixture of my garage now for over five years. It is the tool that allows my GS to coexist with two cars inside our garage. It also provides a handy support for changing tires or servicing the rear differential, etc. I do not consider it a luxury.
Rolling dollies designed for motorcycles used to be hard to find. The first example I ever saw was the Park-N-Move. Back in 2008 we met Aaron Zimmermann at the Dallas Motorcycle Show and he demonstrated how easily the Park-N-Move made moving a bike.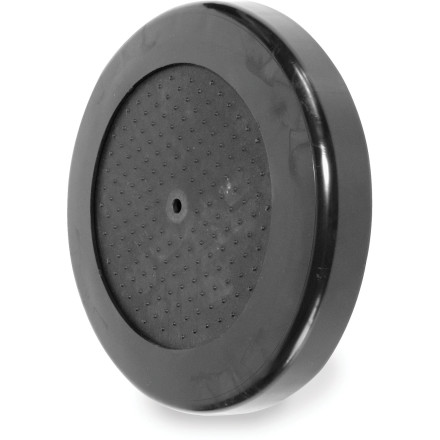 Since then the Park-N-Move has been refined, and other similar devices have found their way to market. For example, an aluminum version was sold by now-defunct Turnabike (pictured above). A similar design is available from Aerostitch. The common drawback to these designs is the bike must have a center stand. Another option is the more basic "turntable" or wheel dolly These really aren't a dolly at all since it only allows the bike to be turned. But if you don't need to roll your scooter around the garage this is a great alternative and less expensive. 
Shop for the Park-N-Move on eBay
That brings us to the T-design dolly. These are made to support the motorcycle by the sidestand and one or both wheels. A simple low-profile dolly like this is available from Harbor Freight or eBay.
Shop the Home Depot now and save on shelving, cabinets and workbenches designed to make your garage a clutter-free zone.
The biggest disadvantage here is the ungainly space they occupy. Unlike the aforementioned dolly designs, these cover about the same acreage whether loaded or unloaded. But on the flipside, they typically cost about a third of a Park-N-Move.
One final option worth considering is the Work/Store capability of a high-lift motorcycle jack.
These are best suited for the higher ground clearance of an adventure bike. They are intended to lift an offroad bike or ATV for repair work. But since they have casters it's possible to move your steed around the stable. Assuming your floor is smooth!
You can pick up a well built example of this stand at Northern Tool. However, I would caution anyone using this for a big street bike to be sure and strap it down when working. It will ride pretty high and moving around or torquing big bolts can make the rig a little wobbly!